Legendary actor Mickey Rooney dies at 93
Legendary actor of screen and stage, Mickey Rooney, died at the age of ninety-three Sunday.
Mickey Rooney may not be a household name for some of you, but he sure is for me. As an entertainer only like Mickey can, he touched lives of ten decades worth of movie-goers and TV fans. Starting his career at the ripe old age of seventeen months, Mickey began a legacy that will probably never be eclipsed by any other entertainer in the history of the industry. Beginning in vaudeville and silent films and then moving to television, talking pictures, and Broadway, Mickey was able to touch the lives of millions of fans for close to a century. Not many actors can boast that.
I first saw Mickey in the Truman Capote adaptation Breakfast At Tiffany's in which he portrayed Mr. Yunioshi, a Japanese tenant living in Holly Golightly's (Audrey Hepburn) building. The role was criticized for being overly racist in its depiction of the Japanese man complete with buck teeth, squinting eyes, and thick accent. Despite the portrayal, I knew that Mickey was a powerhouse in the industry and began to learn more about him and his career.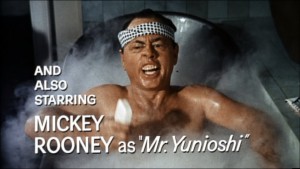 I soon learned that Mickey was a truly talented and powerful force in the acting industry. From his teenage roles in the Andy Hardy films to his multiple awards (Honorary Academy Award, two Golden Globe Awards, and Emmy Award), Mickey has been held in high regard for ten decades.
What's perhaps most endearing about his story, however, is his dedication to the craft. At the age of 92 he filmed what will be his final film, Night at the Museum 3 (2014). That just goes to show that know matter your age, you're only as old as you feel. Mickey had the vigor to get up every morning and keep doing what he'd done best so many times before: entertain. And I like to think that he did it to inspire the next generation of entertainers (and scientists and presidents and changers of the world), that we may all share that same zest for life and work.
But why is Mickey Rooney's passing of particular interest, you ask? Well, aside from his legendary status in Hollywood, Mickey's death marks ever so clearly the distance between the world of old Hollywood, the Golden Age of cinema and the modern day. Mickey got his start in vaudeville. If you don't know what vaudeville is, educate yourself. He moved from the entertainer's stage to the silver screen in the form of silent pictures and later talkies. That rich experience starting from the birth of cinema itself through almost one hundred years of entertainment should and will be sorely missed.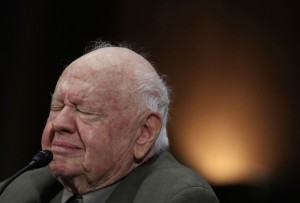 It's always important to know where you came from. As actors search for their influence, fewer and fewer call upon the performances of old Hollywood. Hell, most young people today don't even know that Cary Grant was a stage name. Now, I have nothing against new Hollywood. Honestly I think most of the greatest films of all time were made after the 1950s. But an appreciation for the old days, the old stars, and the birth of the medium is sorely lacking. My hope is that in Mickey's passing, more young people will be encouraged to turn on TCM and watch how films were first made before the advent of 3D, IMAX, or even color film.
I hate to sound like an old fuddy-duddy, but these kids today don't know about the good old days: when a picture brought families and whole communities together at the theater to bring a little levity to a serious world. I may not have had the opportunity to know those days first-hand myself, but I have a deep appreciation for them that I hope more and more young people interested in film and television cultivate.
This has turned into a little bit of a rant now, so I'll just leave with this: Good night, Mickey. You'll be missed.