10

April

In News, Television by J Carlo Tags: Colbert, Colbert Report, comedy, david letterman, late night, late show, letterman, Stephen Colbert, talk show, television, The Colbert Report, The Late Show, The Late Show with David Letterman
Stephen Colbert to succeed David Letterman
CBS announced today that Stephen Colbert (The Colbert Report) would succeed David Letterman as the host of the Late Show following Letterman's retirement in 2015.
Stephen Colbert to take over the Late Show
Stephen Colbert has hosted The Colbert Report since October 17, 2005 on Comedy Central, so he's no stranger to late-night talk shows. But this shift from the comfortable and political world of late-night Comedy Central will be a test for Colbert as he must now become more accessible to the general public.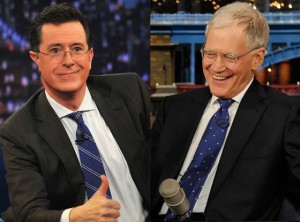 Personally, I think Colbert will make a fine successor to David Letterman. He has the interview chops, a quick wit and funny demeanor, and an engaging personality that will draw viewers. Not to mention his immense fan base will hopefully draw more (younger) viewers to the Late Show–undoubtedly CBS's hope as The Tonight Show with Jimmy Fallon continues to boast at number one.
One important thing to note, however, is that Colbert will be fifty years old by the time he takes over for Letterman. At thirty-nine, Jimmy Fallon has a good ten years on Colbert and will probably remain an institution at NBC barring some horrible incident. Giving Colbert the reigns doesn't seem like a long-term solution to Letterman's retirement, but it's certainly something I'm interested in watching unfold.
Why doesn't this news make me as happy as it perhaps should?
The only downside to this news, in my opinion, is that as we gain Stephen Colbert, Late Show host, we lose "Stephen Colbert," conservative pundit and host of The Colbert Report. Stephen Colbert's long-running character will have to hang up his gun license and retire to some fictional farm in the back of Colbert's mind. Over the years, I've come to love The Colbert Report and the hysterical satire therein. This news is bittersweet to say the least.
That being said, I think Stephen Colbert will do a fine job on the Late Show. He's no stranger to late-night; he'll just have to get used to delivering a monologue and sharing a stage. But as a man with such immense talent and grace (especially noticeable when he's not "in character"), I think success is the only possible outcome for this successor.
Best of luck, Stephen.