17

April

In Music, This Week in Vinyl by J Carlo Tags: albums, Berlin, Ella, Ella Fitzgerald, Ella in Berlin, Gershwin, jazz, jazz music, LPs, Mack The Knife, music, music review, Porter, records, reviews, This Week in Vinyl, vinyl
This Week in Vinyl: Mack The Knife (Ella in Berlin) by Ella Fitzgerald
This Week in Vinyl: Mack The Knife (Ella in Berlin) by Ella Fitzgerald
Week two of my new series is a bit of a musical departure from last week's feature (Paranoid by Black Sabbath). This time I'd like to profile one of the best live albums ever recorded by one of the best vocalists to ever walk the earth. I found Mack The Knife (Ella in Berlin) in the basement of the Montclair Book Center in Montclair, New Jersey. I picked up this piece of jazz history for the reasonable price of $8. Now, let's get into my review.
Album Packaging
The packaging for this album is quite simple. Ella Fitzgerald's face fills most of the frame as she sings one of her classic tunes. The Words "Mack The Knife" appear above and "The Complete Ella In Berlin" appears below. This recording is from a live concert Ella performed at the Deutschlandhalle in West Berlin with the Paul Smith Quartet. The classic sound on the album and the live performance of the evening is perfectly captivated in my opinion by Ella's singing mug on the cover. I give the cover a ten out of ten.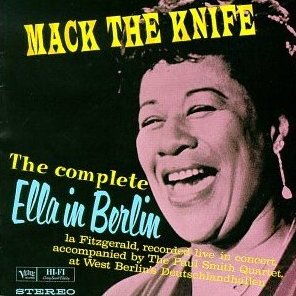 The Music Inside
So much can be said about the performance on this album, but I'll try to be brief. For her performance of "Mack The Knife," a performance during which she forgot the words and made up her own lyrics, Ella Fitzgerald was awarded with the Best Female Vocal Performance (Single) and the Best Vocal Performance, Female (Album) awards at the 3rd Grammy Awards in 1961. The set list is a mix of popular songs and jazz standards, most notably "Too Darn Hot" (C. Porter), "Misty" (Johnny Burke, Erroll Garner), "The Lady Is a Tramp" (Richard Rodgers, Lorenz Hart), and "Summertime" (G. Gershwin, I. Gershwin). The tracks play seamlessly on this fifty year-old album, and the sound is rich and lively. Playing the record simulates quite accurately the sensation of being at that legendary gig. It should go without saying that the tunes on this album get a ten out of ten.
My Verdict
First of all, my many thanks to the folks at Montclair Book Center for stocking this gem on its shelves. I must say, I've never made such an amazing find before. This album was certainly worth the $8 price tag. I would've gladly paid $100 for this near-mint piece of jazz history. All things considered, this album gets a ten out of ten in my book. If you can find the vinyl somewhere, I suggest you pick it up. But if you can't, still do download the album or pick up the CD (it was released in 1993 and includes extra tracks). You can't go wrong.