08

April

In Music, This Week in Vinyl by J Carlo Tags: 1970s music, albums, Black Sabbath, heavy metal, LPs, metal, music, music review, Paranoid, records, reviews, vinyl
This Week in Vinyl: Paranoid by Black Sabbath
Welcome to the inaugural edition of my weekly series This Week in Vinyl! In this series I hope to take you on a journey through my vinyl collection of music and audio recordings in weekly episodes that explore the history, quality, and my overall review of each and every record. Enjoy!
This Week in Vinyl: Paranoid by Black Sabbath
So I thought I'd start off this series by profile the first record I ever bought: Paranoid by Black Sabbath. Procured from a small record store in Chester, New Jersey, for the very reasonable price of $5, the album was a steal. Let's take a look at the record itself before we dive into the music.
Album Packaging
Paranoid comes in a black folding sleeve that, when opened, reveals a blown-up image of the band members standing in a field along with the track list, band member names, and production credits. The obverse and reverse of the packaging portrays an image of a warrior with a pink shield and blue sword moving quickly (his blurred image behind him). The reverse also includes the track listing in the upper left-hand corner. My copy is in great condition, with just a few small places of worn cardboard along with edge of the cover. Definitely worth the money spent.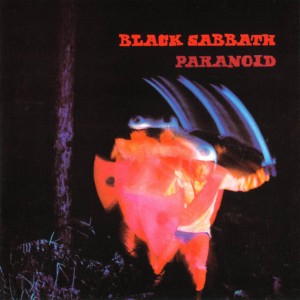 The Music Inside
This is by far my favorite Black Sabbath album, not to mention one of my favorite albums of all time. The record starts with one of the band's most iconic songs "War Pigs," a six-minute anti-war song known for its gruesome lyrics depicting hell, Satan, and battle, its brilliant guitar riffs, and its punctuated and rhythmic drumming. "War Pigs" is followed by the title track, "Paranoid," which proved to be the first commercially successful single of Black Sabbath's career. Side one is rounded out by the doomy "Planet Caravan" and the iconic "Iron Man."
Side two contains two lesser-known tracks in "Electric Funeral" and the instrumental "Rat Salad" which exemplifies Bill Ward's drumming prowess like no other track the band has ever recorded. The remaining tracks, "Hand Of Doom" and the ever popular "Fairies Wear Boots" act as examples of drug use's influence on Black Sabbath lyrics.
My Verdict
Paranoid is by far one of the greatest albums ever recorded and the perfect introduction to the music of Black Sabbath. I give the recording on the band's sophomoric effort a nine out of ten. The packaging is truly stunning as well. The colors of the obverse and reverse capture the darkness at the band's heart and the inside, when unfolded, displays an intimate photograph of the band in its younger years that defines the age in which the album was recorded. Packaging gets an eight out of ten. Definitely get your hands on a copy if you can.