14

April

In Interviews, Music by J Carlo Tags: blues, blues music, Chestnut Radio, country, country music, Dan Barlekamp, Devils Roadhouse, Hank Williams, internet radio, interview, jazz, Johnny Cash, Muddy Waters, music, radio, The Devil's Roadhouse, Willie Dixon
The Devil's Roadhouse: the new face of blues and country

The Devil's Roadhouse, new face of blues and country
One of my favorite online radio shows these days is a small program on Chestnut Radio called The Devil's Roadhouse. Hosted by the knowledgeable Dan Barlekamp, The Devil's Roadhouse graces the airwaves with the sounds of classic blues, country, jazz, and Western swing.
Tune in on any given Thursday (when new episodes air), and you're bound to hear tunes by Johnny Cash, Muddy Waters, Willie Dixon, Hank Williams, and more. What's more, every track you hear is accompanied by a brief history of the tune, further enriching your own knowledge in the process. I recently sat down with Dan to talk about his show. Here's how the conversation went down.
Interview with Dan Barlekamp of The Devil's Roadhouse
J Carlo: How did The Devil's Roadhouse come to be?
Dan Barlekamp: Well, I hosted/co-hosted a few radio shows in college that spanned several different genres of music. I absolutely loved doing it, and after I graduated I started looking around for ways to stay involved in radio. I ran into Fred, who hosts The Eclectic Ear, at a wedding, and he put me in touch with Ralph, head honcho of Chestnut Radio. Ralph said that Chestnut Radio didn't yet have a blues or country program, and that was that. It was a lot of luck, really.
JC: Where did the name "The Devil's Roadhouse" come from?
DB: Once Ralph offered me the slot, I started struggling to think of a name that would capture the attitude of the music I'd be playing. I wanted to riff on the grizzled, working-class image of the early country bluesmen and singing cowboys. Anyway, there's this really neat old biker bar near me in Little Falls, NJ, called the Great Notch Inn (if you're into old-timey watering holes, you won't want to miss this place). The son of the original owner published a book on the bar's history titled The Last Roadhouse. I thought that had a great ring to it but didn't want to plagiarize, obviously, so I made it The Devil's Roadhouse to conjure images of Old West saloons, haggard cowhands, cheap whiskey, and other devilment (pun intended).
JC: Why the focus on classic blues and country?
DB: Ah, so many reasons. To name a few, I think it's an incredible part of American musical history that is underrepresented on the airwaves today (which is where independent stations like Chestnut come in). It's also an integral part of today's most popular and renowned music. Sure, most people will tell you that rock and roll started with Elvis, Chuck Berry, and those guys; but they didn't pull it out of thin air. I try to showcase the origins of the country, blues, and rock with which we're so familiar in 2014. Also, it's hugely enjoyable to listen to. These old songs pack a serious punch in their simplicity. The artists conveyed raw human emotion without any of the technological advances available to musicians today. Since many of them were virtually untrained, they had to rely entirely on their own talent and intuition, and I think it's important to look back and appreciate that. I could blather on and on, but I'll leave it there.
JC: Where did your appreciation for blues and country come from?
DB: Let's see… I think the country came first. My parents had this worn-out old cassette (remember those) of Johnny Cash's greatest hits that they used to play in the car all the time. Having spent most of my childhood listening to Metallica and Nirvana, Cash was something totally different for me, and I liked it. I guess I just formed a special connection to the songs on that tape. Yeah, it all began with the Man in Black.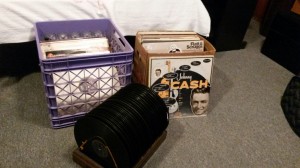 In terms of blues, I was with my dad in a CD store one day when he picked up a used copy of Howlin' Wolf's Change My Way. Curiosity got the better of me, and when I gave it a listen, that gravel-coated voice blew me away. I felt like I'd found the origin of Lemmy from Motörhead. Howlin' Wolf led to Muddy Waters, Muddy Waters led to Robert Johnson, and before I knew it, I was addicted to the old stuff.
JC: Just how extensive is your vinyl collection?
DB: I have a decent assortment of vinyl, mostly those standard greatest-hit compilations, reissues, stuff like that. Nothing too crazy.
The bulk of my collection lies in 78 rpm records—binders and racks full of them—rescued from my grandparents' attic, random estate sales, garbage cans, library basements, etc. That's where a lot of the material on The Devil's Roadhouse comes from. I make a point of playing from the original records whenever possible. If I can find an un-remastered version of a song, that's the version I'll go with. The "snap, crackle, and pop" is all part of the grit, the integrity.
One 33 that I am excited about, though, is an original issue of Johnny Cash with His Hot & Blue Guitar, his first Sun Records LP, that my girlfriend's family picked up for me out in PA. It's a little beat up, but that's okay—it's lived. The previous owner(s) wore down "I Walk the Line" so much that it's almost unlistenable.
JC: Who are your favorite artists to play on the show?
DB: I like to play the big names that get people excited—John Lee Hooker, Hank Williams, Billie Holiday—but I have the most fun digging through the Library of Congress archives and discovering more obscure artists that might have only recorded a couple of sides in their careers.
Of course, ZZ Top are always welcome visitors.
JC: Who are your favorite blues and country artists, respectively?
DB: For blues, I'd have to go with Howlin' Wolf or Mississippi John Hurt, and for country, I don't think you can top Hank Williams, Sr., though the Carter Family comes very close.
JC: If you could have any artist–living or dead–appear on the show for an interview, who would you choose?
DB: Man, that's a tough one. I think it would be awesome to sit down with Robert Johnson, even if just to get the lowdown on the Devil-at-the-crossroads business.
JC: What's your favorite thing about hosting The Devil's Roadhouse?
DB: I think it's the flexibility that Ralph gives me and the other DJs. I don't have to stick to the more popular artists, I can talk as little or as much as I feel is appropriate, I can host themed shows (like birthday specials) whenever the mood strikes me, etc. All of us are free to do what we love, and I think that's reflected in all of the shows on Chestnut Radio.
Additionally, it's just an amazing opportunity to be able to deliver these historical, sometimes long-forgotten recordings to the Internet airwaves. It's a blast every week, and I love reading listener feedback of any kind on Facebook and Twitter. That makes it worth it.
You can Like and Follow Dan and The Devil's Roadhouse here: Facebook, Twitter, and Tumblr
And don't forget to tune in to new episodes of The Devil's Roadhouse Thursday nights at 9 p.m. ET on Chestnut Radio.